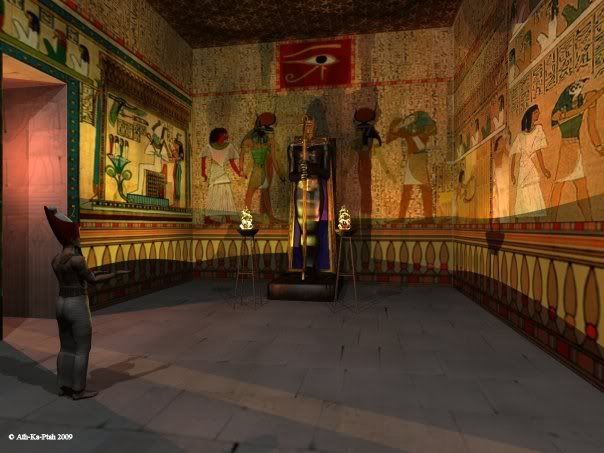 Shem Hotep ("I go in peace").

"It would take more than a man to lead the slaves from bondage. It would take a god."
Mini Iraq!
Excuse me while I vent a little in this piece But I feel like we're living in the Middle East A 14-year old is shot and he ain't coming back All because we live in a Mini Iraq Drive by killings are our roadside bombs Only difference is there is no dessert, no Saddam Domestic terror has been haunting us for years Who will help us stop shedding these tears Liberate us from these brutal acts Before more innocence is laid on its back RPG's are a constant threat Rob People's Goods and this you can bet We won't get any rebuilding aid Trapped in Mini Iraq is like living in a cage
So much rage and so much frustration
But yet they say this is still the greatest nation
Just like Iraq we have people walking 'round with guns
They ain't afraid to use them on our daughters and sons
The hatred has grown well out of proportion
So much to the point where it's creating distortion
Instead of Middle Eastern men in black with black hooded faces
We've got whites with white robes and white pillow cases
Killing and destroying our peers
Hanging us from trees, but its been going on for years
Who's going to help us and watch our backs
No one because we live in Mini Iraq
It's the rise of a religious war
And the fall of the American way
Suicide bombings broadcasted everyday
And the ashy knees of a nation still covered in gray
American truths are being brought to the light
And the politician's voices tremble with fear
As they wipe blood off of the pavement during an election year
But like "Good Times", life is getting so hard
That even Cat Stevens is being barred
Mohammad's bitter truth severing heads like an Egyptian sword
Because like he said, "we wont win another war"
As long as we continue to treat other countries
Like we treat our blacks and our poor
There are millions of Americans stifled in fear
Especially the ones that weren't asked to be brought here
Getting ready for the ramparts and the red glare
Because the terrorists cells are already here
But they aren't sheiks and clerics wearing hoods and masks
They're the ones teaching our children Science and Math
We're the reflection of Mini Iraq on our hexed homeland
Too busy swearing politicians into command
To read this short list of Arabic demands:
GET THE HE!! OUT OF FOREIGN LAND!!!
America is nothing more than a two-bit whore
Making other nations bend over
While they trick for Iraqi-0il
Behind closed doors
Looking for any excuse to settle the score
9/11 a surprise…..indeed
While the politicians plot and scheme
You got kids killing kids
Just for a bit of 'cream'
While "Peace on Earth" is only a dream
The streets across our nation
Has everyone debating
The
"Who", "what", "where", "when" and "why"
While sending more troops over to die
And the heads will continue to fly
Across our airwaves
'Till the ones who lived in those caves
Pay retribution to the descendants of slaves
The war in my backyard
Will become bloodier by the day
In Mini Iraq
Better known as the ole U. S. of A.
Support our troops while they are defending foreign soil
Support the truth while the government pretends it's not about the oil
Support our youth while the market trends replace CROWNS with ROYAL
Support our roots while the Fahrenheit on our 911 starts to boil
And run over into our streets where the STEAM ROLLS OVER the bodies of the deceased
That are draped by swarms of flies
While the world is left covered in shit
Sitting on the couch along with Jadakiss
Asking, "Why"?
Blocks are adorned with citizens prepared to cast their vote
Not knowing that around that very same corner
another body was found with a gun shot wound to the throat
Another body, another death, another story untold
Another casualty or one less black voter at the polls?
Makes you wonder who was behind that mask
Bush? Cheney? Or was it Condoleezza's ass?
Middle Class Famine, adolescent fatalities, terrorism,
War, Drug abuse, and modern day slavery;
Headlines?
No these are items found in my nap sack
A mini Iraq
Ripping holes into my back
Can't board a plane, so I'm catching Amtrak
Taking my seat with my heavy load
Next stop, The White House!
And I'm armed and READY TO EXPLODE!
Thanks for reading Mini Iraq. I Hope you were able to find something here to hang on to. It is my hope that all of mankind will see you as I do. If you like to stay in touch Please Email me at Nubianrace1960@Hotmail.com.
Hotep, Your Brother.