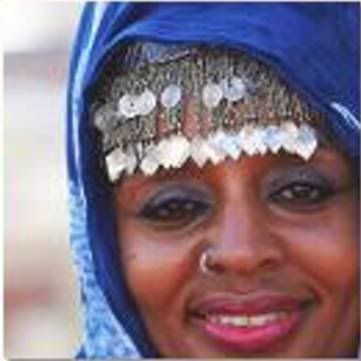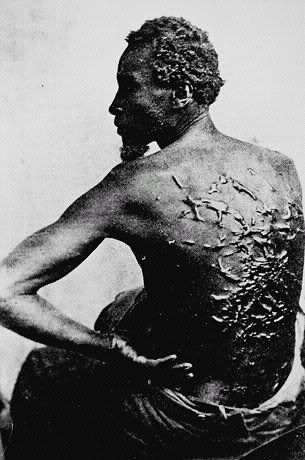 Shem Hotep ("I go in peace").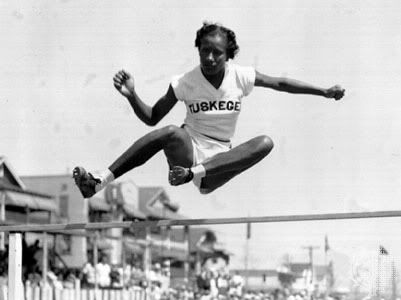 Alice Marie Coachman.
Alice Marie Coachman (born November 9, 1923 in Albany, Georgia) is an American former athlete. She specialized in high jump, and was the first black woman to win an Olympic gold medal.
Coachman dominated the AAU outdoor high jump championship from 1939 through 1948, but was unable to compete in the Olympic Games as they were cancelled in 1940 and 1944 because of World War II.
In the high jump finals of the 1948 Summer Olympics, Coachman leaped 1.68 m (5 ft 6⅛ in) on her first try. Her nearest rival, Great Britain's Dorothy Tyler, matched Coachman's jump, but only on her second try. Coachman was the only American woman to win an Olympic gold medal in 1948.
Coachman also excelled in the indoor and outdoor 50 m dash and the outdoor 100 m dash. Representing Tuskegee Institute, Coachman also ran on the national champion 4 x 4 100-meter relay team in 1941 and 1942. Coachman is an honorary member of Alpha Kappa Alpha Sorority, inducted in 1998 during the sorority's international conference.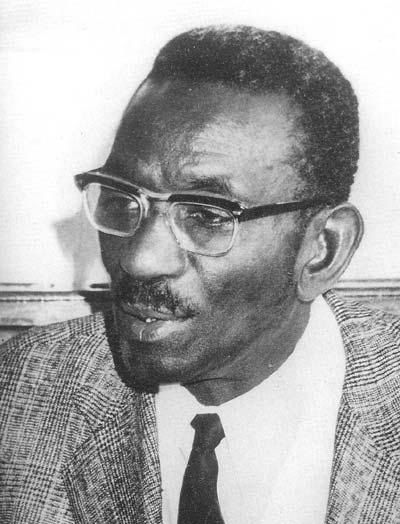 Cheikh Anta Diop (29 December, 1923 in Thieytou, Diourbel Region - 7 February, 1986 in Dakar) was an Afrocentric historian, anthropologist, physicist and politician who studied the human race's origins and pre-colonial African culture.
The Color of Man.
It is generally conceded in most scholarly circles, that mankind originated in Africa. This makes the African man the father, and the African woman the mother of mankind.
By necessity, the earliest people were ethnically homogeneous and Negroid. Gloger's Law, which would also appear to be applicable to human beings, lays it down that warm-blooded animals evolving in a warm humid climate will secrete a black pigment (eumelanin). Hence, if mankind originated in the tropics around the latitude of the great lakes, he was bound to have brown pigmentation from the start and it was by differentiation in other climates that the original stock later split into different races.
According to Cheikh Anta Diop, "the color black acts as a protection of the organism. If man was first born in Africa and had not been black, he would not have survived. We know scientifically, that ultra-violet rays would have destroyed the human organism in the equatorial regions, if the organism had not been protected by black pigmentation, that is Melanin. That is obviously why man, first born in Africa was black. It is not something we need to be proud of, it is simply a fact."
The oldest known fossil remains, according to Dr. Louis Leakey, were found in the Olduvai Gorge region in Kenya, Uganda and Tanzania. These first "small" people were known as the "Twa", who worshipped the God Bes, a primitive human form of Horus I, being the earliest form of Ptah—the God of Gods.
We also find this same black God, Ptah, symbolized in the mystery system in Egypt. The Twa are said to have migrated the four thousand one hundred miles of the Nile river, establishing what was later to become the Egyptian civilization.
According to Manetho, the first dynasty was established by Menes (or Narmer), about 5500 B.C., when Menes conquered Lower Egypt, combining both Upper and Lower Egypt. This alliance of the red and white crowns of the two countries were joined, and Menes inherited the double diadem, becoming the first Pharaoh of the world.
Imhotep "Father of Medicine" (2980 B.C.)
Imhotep, called "God of Medicine," "Prince of Peace," and a "Type of Christ." Imhotep was worshipped as a god and healer from approximately 2850 B.C. to 525 B.C., and as a full deity from 525 B.C. to 550 A.D. Even kings and queens bowed at his throne. Imhotep lived during the Third Dynasty at the court of King Zoser. Imhotep was a known scribe, chief lector, priest, architect, astronomer and magician (medicine and magic were used together.) For 3000 years he was worshipped as a god in Greece and Rome. Early Christians worshipped him as the "Prince of Peace."
Imhotep was also a poet and philosopher. He urged contentment and preached cheerfulness. His proverbs contained a "philosophy of life." Imhotep coined the saying "Eat, drink and be merry for tomorrow we shall die."
When the Egyptians crossed the Mediterranean, becoming the foundation of the Greek culture, Imhotep's teachings were absorbed there. Yet, as the Greeks were determined to assert that they were the originators of everything, Imhotep was forgotten for thousands of years and a legendary figure, Hippocrates, who came 2000 years after him became known as the Father of Medicine.
It is Imhotep says Sir William Osler, who was the real Father of Medicine. "The first figure of a physician to stand out clearly from the mists of antiquity." Imhotep diagnosed and treated over 200 diseases, 15 diseases of the abdomen, 11 of the bladder, 10 of the rectum, 29 of the eyes, and 18 of the skin, hair, nails and tongue. Imhotep treated tuberculosis, gallstones, appendicitis, gout and arthritis. He also performed surgery and practiced some dentistry. Imhotep extracted medicine from plants. He also knew the position and function of the vital organs and circulation of the blood system. The Encyclopedia Britannica says, "The evidence afforded by Egyptian and Greek texts support the view that Imhotep's reputation was very respected in early times...His prestige increased with the lapse of centuries and his temples in Greek times were the centers of medical teachings."
James Henry Breasted says of Imhotep: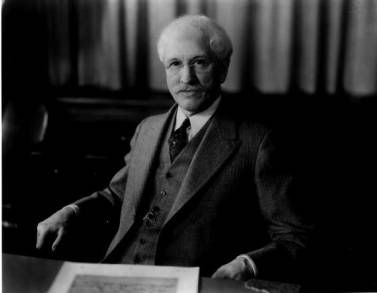 James Henry Breasted (August 27, 1865 – December 2, 1935) was an American archaeologist and historian.
In priestly wisdom, in magic, in the formulation of wise proverbs; in medicine and architecture; this remarkable figure of Zoser's reign left so notable a reputation that his name was never forgotten. He was the patron spirit of the later scribes, to whom they regularly poured out a libation from the water-jug of their writing outfit before beginning their work. The people sang of his proverbs centuries later, and 2500 years after his death, he had become a god of medicine in whom Greeks, who call him Imouthes, recognized their own Asklepios. A temple was erected to him near the Serapeum at Memphis, and at the present day, every museum possesses a bronze statue or two of the apotheosized wise man, the proverb maker, physician, and architect of Zoser.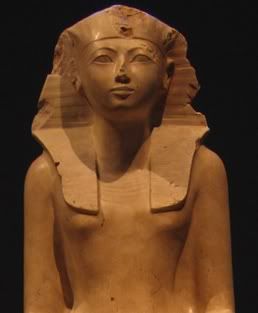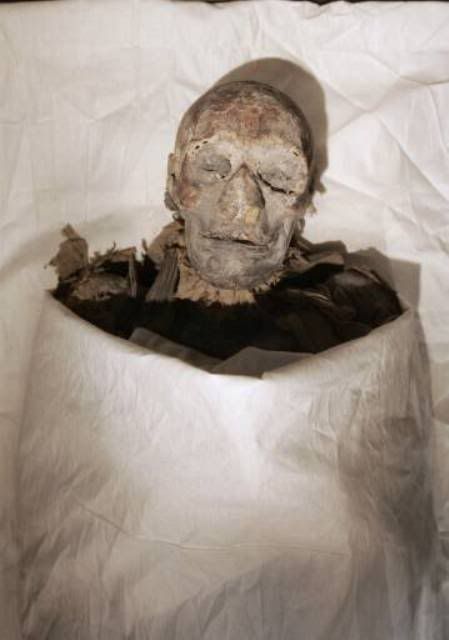 Queen Hatshepsut (1500 B.C.)
About 1500 years before the birth of Christ, one finds the beginning of Hatshepsut's reign as one of the brightest in Egyptian history, proving that a woman can be a strong and effective ruler. She was according to Egyptologist, James Henry Breasted, "The first great woman in history of whom we are informed."
Her father, Thothmes I, was highly impressed with the efficiency of his daughter, and appointed her manager, and co-ruler of his kingdom.
Before the King died, he married Hatshepsut to her half-brother, Thothmes II. His reign lasted only thirteen years. After his death, Hatshepsut was to rule only in the name of Thothmes III, until he was old enough to rule alone.
Hatshepsut was not satisfied to rule in the name of Thothmes III.
Hatshepsut dressed herself in the most sacred of the Pharaoh's clothing, mounted the throne, and proclaimed herself Pharaoh of Egypt. She ruled Egypt for twenty-one years. She also moved to strengthen the position of Egypt within Africa by making peace with the tribes of Kush (or Nubia) and sending missions to the nations along the East African coast, as far south as Punt (present day Somalia). One of Hatshepsut's crowning achievements was dispatching a mission to a kingdom in Asia (now India).
Hatshepsut died suddenly and mysteriously. Some historians say that Thothmes III, had her murdered.
After her death, Thothmes III, tried unsuccessfully to destroy all memory of Hatshepsut in Egypt. Her temple still remains in the Valley of the Kings, once the ancient city of Thebes, known today as Deir el Bahri, and Hatshepsut comes down to us as one of the most outstanding women of all time.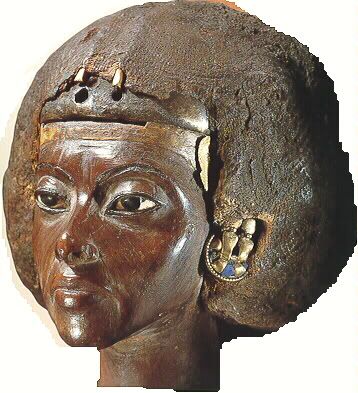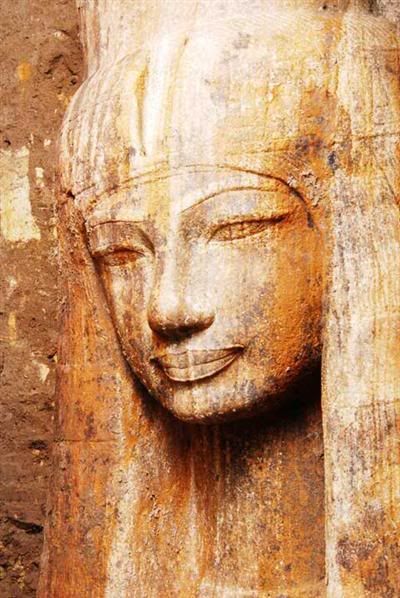 Queen Tiye (1415-1340 B.C.)
This celebrated Nubian queen was the beloved and honored wife of Amen-Hetep III, who was one of the world's mightiest Pharaohs and conquerors.
King Amen-Hetep III, had a very deep and unusual affection for Queen Tiye. In addition to the usual titles of a King's wife, Tiye is described as "Royal" daughter and "Royal" sister, when she was neither the daughter or the sister of a king, but of parents who were not of royal lineage.
The full queenly titles which Tiye held in common with the great heiress princesses of Egypt, were bestowed on her by Amen-Hetep III, and were honorary.
Although Tiye was a girl of common birth, she was a person of very strong character. Evident from records, she was a beautiful young Black queen. A woman of great intellect, ability, and a powerful influence. She shared the crown with her husband as though she had been its lineal heiress. Queen Tiye had such an important part in the affairs of Egypt, that foreign diplomats often appealed directly to her in matters affecting certain international relations.
Queen Tiye was a full-blooded African. Her son, Akhenaton and his wife, Nefertiti are the parents of King Tutankhamen, who is also known as "King Tut."
As a symbol of the love Amen-Hetep III, had for Queen Tiye, he declared that so she was treated in life as his equal, she would be depicted in death. At the time of her death, she was given a full "Royal" burial.